Specifications
No. of Cylinders

N/A

4 Has External Manifold

Weight

N/A

175 lb

Catalog Number

N/A

WTN304
Notes
Note

N/A

Obtain metal stamped numbers and letters from crankcase. State numbers of cylinders amount and type of unloading, either gas or electric.

On 4J, there are two types of unloading, C-type and F-type. We supply like for like at no extra charge.

To identify, C-type has one flare elbow on head over each unloaded cylinder with 1/4 in. tubing to solenoid valve. F-type has one small electric solenoid bolted directly to top of head over each unloaded cylinder. Three cap screws hold each one to cylinder head - no tubing used.


Evacuation Procedure
N/A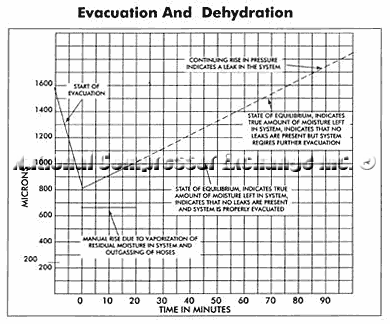 System Cleanliness
System cleanliness is one of the most important factors that affect system and compressor reliability. System contamination can cause both mechanical and electrical failures. There are several sources ofsystem contamination. Some of these are:
Copper oxides from system refrigerant piping brazing.
Refrigerant piping chips and burrs and brazing flux.
Processing residue and metal chips from evaporators and condensers.
Metal chips and wire brush strands from processing of other system components.
Contamination in refrigeration tubing which is left uncapped during assembly.
Moisture and air.
In addition, field erected systems are subject to all the dirt and system contamination of the typical jobsite. It is recommended that a suction line filter be installed in the system to prevent contaminants form entering the compressor ;
---
Evacuation and Dehydration
For the refrigeration system to work property, it must be free of air and moisture. The process by which air and moisture are removed is known as evacuation and dehydration. Moisture and air are harmful to the system because they increase the condensing temperature, raise the discharge gas temperature, cause oil breakdown and the formation of acids. Acids are corrosive to the components in the refrigeration system, including the piping, refrigerant specialties, and the which can cause mechanical failure of the compressor.

The recommended method for evacuation and dehydration is to evacuate the system from both the gigh and low sides to 800 microns or less. To establish that the unit is leakfree and moisture-free, a standing vacuum test is recommended. The maximum allowable rise over a 15 minute period is 200 microns. If the Hse exceeds this, either there is still moisture in teh system or a leak is present in the system See Chart 1.

CAUTION
NEVER USE OXYGEN OR ACETYLENE IN PLACE OF REFRIGERANT AND DRY NITROGEN FOR LEAK TESTING. A VIOLENT EXPLOSION MAY RESULT, CAUSING PERSONAL INJURY OR DEATH.

ALWAYS USE A PRESSURE REGULATOR WHEN USING NITROGEN TO PRESSURE TEST. FAILURE TO DO SO WILL RESULT IN EXTREMELY HIGH PRESSURE WHICH COULD EXCEED THE BURST PRESSURE OF TEH COMPRESSOR OR OTHER SYSTEM COMPONENTS AND RESULT IN PERSONAL INJURY OR DEATH.

FOR SHELF STORAGE EVAC. TO 250 MICRONS